News
News
How To Use Silicone Moulds
Hi Doodlers!
When we first started using silicone moulds, we too were abit apprehensive as we weren't sure how to use these moulds. Further, we would always see pictures of how others could create such beautiful results using the same mould as we did! After years of being home baking enthusiasts ourselves, we now know abit more than when we first started. As such we wanted to share more effective tips and tricks on how to use these moulds to achieve a desirable figurine / effect!
Step 1:
The environment you are in is key! If possible, handle fondant in an aircon room or area, with temperature of at most 24 degrees celsius and low humidity. This allows the fondant to stay cool without "sweating" and eventually losing its shape.
Step 2:
To prevent fondant / gumpaste from sticking in the silicone mould, apply a good amount of Crisco Shortening in the cavity of the silicone mould before putting any fondant into the cavity.
Step 3:
With portions 1:1, you create a mixture of icing sugar and cornstarch and slightly powder your fondant before placing it into the cavity. This also prevents the fondant from sticking in the silicone mould
Step 4:
There are 2 ways to get multi-coloured end results from using a silicone mould.
The first way is to use just 1 colour for the entire mould. After the shape is successfully extracted, you can use either edible markers or edible paint to colour the areas you wish.
The second way is to use the exact coloured fondant for the exact areas - resulting in no need to paint or use a marker after extracting the fondant mould.
We will explore this in the later steps.
In this case, what you'll need to do is press the fondant firmly and evenly in the cavities. Use a scribe tool if you need to push it into the small crevices. 
Then cut the excess fondant off with a sugarcraft knife, evenly along the surface of the silicone mould.
Step 5:
If you're adventurous enough to use exact coloured fondant for the exact areas, then do take note of the following tips:
Use slightly less fondant than you think you need for the area because when you press the other fondant on top, it spreads and if you put in more than you need of the contrasting colour, then it will spread into the area you don't want it to be in.
When dealing with small crevices, break off little balls of fondant and slowly fill up the cavities. The key here is to shape each ball like the cavity you are filling. What you don't want to do, is to put too much in at a time otherwise you get a little border on the exterior of the shape out of the excess fondant, which defeats the purpose of using exact coloured fondant for the exact areas.
To save time, for bigger moulds, you should use the desired colours in the desired crevices as they are easier to shaped. For smaller moulds, use a single colour and paint the respective portions after removing it from the mould.
Step 6:
Once the fondant has settled in nicely, you can attempt to remove the fondant from the mould.
At this point, you may have heard or seen many other tips recommending to put the fondant and the mould in the freezer or refrigerator for 15 minutes or so. This is in fact not recommended in Singapore due to its humidity. Fondant begins to "sweat" once out of a lower temperature area and it will not be long before it loses its shape.
You can remove the fondant within a minute or so by, without touching the fondant, gently bend the silicone mould slowly.
With the shortening and cornstarch applied to the mould and fondant, the fondant should pop out of the mould fairly easily, maintaining the integrity of the shape.
Step 7:
Viola! You're done! Repeat for as many times as you require. :)
We hope this simple and short post will help! Sorry the photos to illustrate the above steps aren't ready for now. But we will update this post once they are! :) 
Keep Doodling,
Doodle A Cake
How To Create Awesome Looking Cupcakes!
Hi Doodlers!
We have been receiving a handful of queries on what tools bakers will need to make simple but awesome looking cupcakes. 
Here's a short of list of items you'll need to create your own masterpieces!
Simple & Sweet Designs:
Credits: sugardelites.com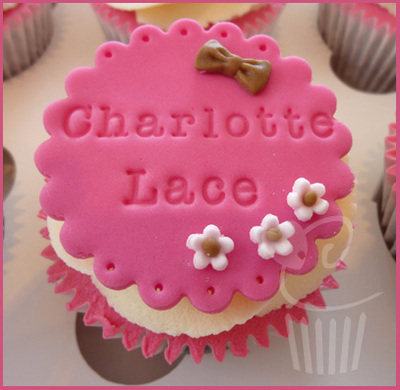 Credits: purplecupcakes.co.uk
Cut fluted and non fluted round shape cutters with different coloured fondant to create a standout frame on the cupcakes. Together with the mini alphabet press set, you can write names or meaningful messages on the fondant. Go one step further to put little hearts or flowers on the fondant as decor. The fluted edges can also be decorated with other tools like the Needling Scriber for extra detailing. Pipe buttercream before placing the fondant plaques to enhance your design further.
Elegant Designs:
Credits: cakejournal.com
Credits: http://thecupcakeblog.com
To make these elegant looking cupcakes, you'll need abit more tools. Get the plungers and cutters to create sleek snowflakes or butterfly fondant pieces. Because they are "veined", they are not cut as shapes, rather showing detail on their wings and perfectly and proportionately shaped snowflake designs.
Remember to get piping nozzles to pipe different twirly designs of buttercream on the cupcake before carefully placing the snowflakes or butterflies. You can also choose to decorate the snowflakes or butterflies with glitter or sugar bits for that glitzy effect!
And finally, you'll need a nice cupcake stand to proudly show off your masterpieces. Doodle A Cake carries a variety of cupcake stands that will wow your guests as a centerpiece of your party's food and decor. See the variety of cupcake stands here!
On our next post, we seek to answer another burning question from many of our subscribers - How To Use A Silicone Mould? Do visit us often!
Cheers!
Doodle A Cake.